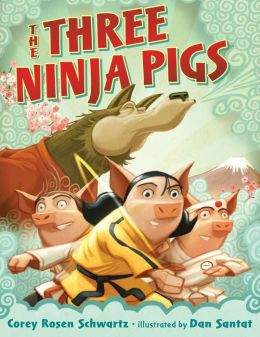 The story of the Three Little Pigs with a twist. This time, the pigs decide to study martial arts in order to prepare themselves for the inevitable run in with the wolf. The first two pigs bail on their training early, while the third finishes her entire course of study. When the wolf comes huffing around, the first two pigs find themselves woefully unprepared. Thankfully, their sister saves the day.
This was
delightful
! The rhyme scheme is a lot of fun, and there are great lessons about perseverance and finishing what you start. I can not wait to read this to my students! They are going to love this one! I am working on a curriculum plan involving fractured fairy tales and this will go right to the top of my three pigs collection. Illustrations by
Dan Santat
are fantastic. In fact, they are what first drew me to this book.
5 out of 5 stars
AR level of 3.2
Recommended for: everyone!