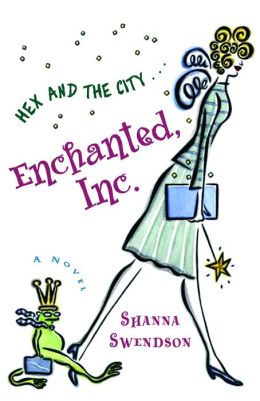 Katie Chandler is one of those rare folks in the world without an ounce of magic in her, making her a perfect person to work for a magical company. Katie can see concealed clauses in contracts or people masking themselves to change how they look. These skills come in handy when a rogue wizard decides he doesn't want to play nicely with the magical community any more.
When this book was first published, paranormal romance/mystery stories were not as prevalent as they are today. Some places shelved this book with general fiction while others tried to categorize it as "urban fantasy." Can you imagine this cover in the Science Fiction/Fantasy section of the book store? Me neither. It's much lighter fare than what people call urban fantasy these days. And I like it that way!
I reviewed
this book
several years ago, but I recently discovered that the author had two more books in the series available for my Nook, so I downloaded the whole lot of them and started reading again. When I first reviewed this, my blog was only a few months old and I didn't give ratings and such. I would give this book 4 stars. I'm really looking forward to re-reading the next three books and then diving into the new material! If you like paranormal stories, but not the darker ones with vampires and demons and zombies and such, take a look at
Enchanted, Inc
. and the rest of the series!