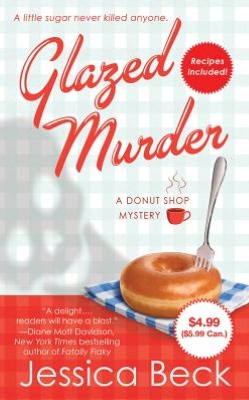 Suzanne Hart is reclaiming her life after her husband's affair (and their subsequent divorce) by owning and running a donut shop. Sure, the hours are awful, but she is her own boss and she is following her heart. But when an acquaintance is killed and his body is dumped in front of her shop, she becomes a witness to a crime. Suzanne is determined to dig into the victim's life - personal and business - in order to figure out what happened to him and get her life back.
This is the first book in a series that is already seven books deep (it's been on my shelf for awhile). I really liked Suzanne and her friends. The donut angle gives Suzanne a great opportunity to meet and connect with a lot of different people, which is great for a series. My only frustration was in Suzanne's repeated defense of her snooping to find out what happened to her "friend." I thought the relationship with the victim seemed thin for a motivator, so every time she was cautioned to back off (a cozy mystery staple) and refused, I wasn't convinced her rationale was strong enough (she almost didn't seem to believe her own assertions). That annoyance did not keep me from enjoying the story, and it isn't a factor as I anticipate reading the next volume in the series.
4 out of 5 stars - a good mystery, interesting characters (the ex-husband is a real pill! He's well defined and a total pain for Suzanne and her budding new romance)
Recommended for: cozy mystery fans should enjoy this book.
Cautions: none