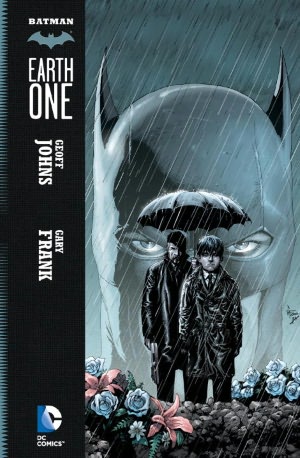 [
Today's post is brought to you by my husband, Scott. Enjoy!]
Batman: Earth One - Geoff Johns, Writer; Gary Frank, Penciler
Batman: Earth One is a stand alone graphic novel written by DC Comic's Chief Creative Officer Geoff Johns with artwork by Gary Frank. As he did previously with Superman: Earth One, Johns brings a fresh new twist on the Batman origin story. With characters we are already familiar with from the Batman universe, John's gives us the introduction of Alfred Pennyworth, ex-Royal Marine, security expert and long time friend of Thomas Wayne who is called to Gotham to provide security for Thomas as he has received death threats while running for Mayor of Gotham. After the untimely murder of Thomas and Martha Wayne, Alfred accepts the role as guardian for young Bruce Wayne. This story is interwoven with the story of an adult Bruce Wayne at the very beginning of becoming Batman. This Batman is still struggling to become the Dark Knight that we have come to know. Bruce is still pursuing the details surrounding the murder of his parents. Bruce is still growing into his alter ego while relying on help from Alfred as his mentor and establishing relationships with the likes of Detective Jim Gordon as well as villains previously known and unknown.
This incarnation of Batman takes on the darker, edgier tones that we have come to associate with the more recent popular versions of the Dark Knight. What I enjoyed was the tweaks that Johns makes on the familiar characters and how he lets you witness them in the early development of their personalities. I would definitely be along for the ride if Johns would want to give us another chapter in this story of Batman.
Definitely for teens and older. 4 out of 5 "stars."