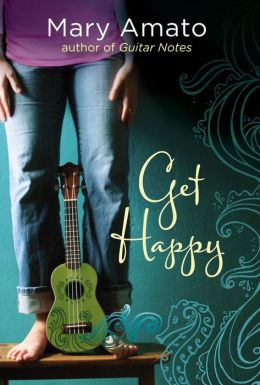 I am pleased to welcome author, Mary Amato to Bring on the Books today! She is the author of the great book posted here -
Get Happy
. Because of the influence of music that runs through this entire story (as well as Ms. Amato's other stories like
Guitar Notes
), I asked her to share about that aspect of her writing. Here is her response:
I love music and wanted to write another novel exploring music in the life of a character. Music is often the thing that gets a teen through the day. How many times I remember being depressed or angry or sad or confused and then singing my heart out to whatever song I was hooked on and just letting the song take care of purging the negative and replacing it with joy.
When I write I keep my instruments nearby and throughout the day I take little breaks to play and sing. I also work well with music on and often choose music that I think my characters would like or music that reminds me of my characters.
Many thanks to Mary Amato for stopping by on her blog tour. You can check out the rest of the tour
here
. Mary is also offering a copy of
Get Happy
to one of my readers.
Comment below (or on my Facebook or Twitter posts) by 11:59pm on October 31, 2014 for a chance to win!
I thoroughly enjoyed
Get Happy.
The main character has two great friends who support her throughout the story. When things start to fall apart for her, her anger is raw and realistic as she discovers that relationships are complicated and adults aren't perfect. I flew through this one, cover to cover, and enjoyed every page. I think this would appeal to middle school and high school readers as well as those of us adults who are lucky enough to know how much fun it is to read books that are supposed to be for kids! Four out of five stars.
Remember to comment by the end of October for a chance to win a copy of
Get Happy
and check out the rest of the blog tour.
Author Bio:
Mary Amato is an award-winning children's book author, songwriter, musician, puppeteer, and poet. She writes for children of all ages, and is beginning to focus on YA. Her first YA novel was Guitar Notes. Mary lives with her family outside Washington, DC, where she also performs regularly, singing and playing her own songs. Mary is a popular speaker and runs numerous workshops for teachers and students, including many on all aspects of creative writing, even songwriting. The author lives in Silver Spring, MD.
You can visit her online at www.maryamato.com. You can also find here at
www.thrumsociety.com
* I received an electronic copy of this book from the publisher for free in the hope that I would review it honestly on my blog. Regardless, I only review books I enjoyed. I don't believe in passing on negative reviews. I am disclosing this in accordance with the Federal Trade Commission's
16 CFR, Part 255
: "Guides Concerning the Use of Endorsements and Testimonials in Advertising.