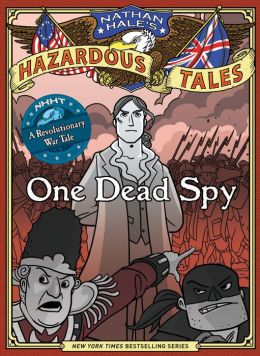 Book one in the Nathan Hale's Hazardous Tales series of graphic novels. This one tells the story of the American Revolutionary spy, Nathan Hale, as well as other stories of the American Revolution.
This was
great
!! The graphic novel format and the set up between Hale and his executioners who listen as he tells his stories made this so much fun to read. This is a kid-friendly book, with asides from other characters that give a break every now and then to the historic pieces and clarify things readers might not know. I learned things from reading this - and I had fun doing it! Includes actual quotes from historic figures (includes some language). Notes at the end indicate where the author took artistic license or when history is not 100% sure what happened.
This summer I was at a teacher meeting, and I had packed another book in this series in my bag in case there was down time. Instead of down time, I saw a student sitting in a chair while his mom was helping with things for the teachers. I offered him the book and he jumped right in. He returned it to me once school started and said he loved it and read it twice. This is a series I am putting into the library as soon as possible!
5 out of 5 stars
AR reading level of 2.6 with a target audience of middle grade readers.
Other books in the series: