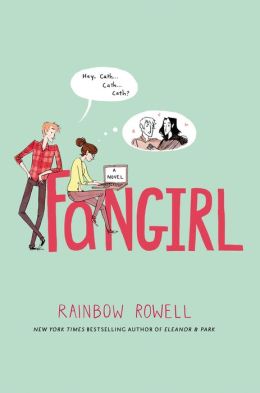 Cather and her twin sister, Wren, are leaving for college. Wren is the more vocal sister, pushing for separation and independence from her twin, leaving Cather more than a little lost. Throughout their freshman year, Cather tries to find her own way and her own place both at college and in life.
That summary doesn't even begin to scratch the surface of all the things going on in this novel. And all of it is fabulous! I loved Cather's voice and her journey. I got lost in the beautiful writing (instead of distracted by it which was awesome). I loved the relationship Cather develops with Levi and Reagan and the relationship with her father. The strain with Wren and with their mother was believable and not easily resolved which made it even more realistic. The Simon Snow fan fiction Cather writes was fun to read - parallels to Harry Potter were obvious and only a little distracting at first. I read this while at Phoenix Comic Con which gave an extra depth to Cather's love and fanaticism for Simon Snow. My only complaint was the ending. I wanted more - more details on her final paper, her relationships and her future. The whole book was delightful! I would read this one again.
5 out of 5 stars.
This is for high school students and older readers. Profanity, underage drinking, homosexuality, and mental illness are among the concepts explored in this book. This is also a book about writing, about identity, and about independence and growing up.