Lunch Lady and Betty have been fired by the new superintendent of schools. All the villains they caught and put away have broken out of jail and are back at the school wreaking havoc. The Breakfast Bunch desperately need Betty and Lunch Lady back to save them one last time.
I am so sad to see this series come to an end! My students can't get enough of these books, and I know they are going to enjoy the final adventure. I especially enjoyed the role the League of Librarians played in this story! If you haven't read one of these graphic novels before, check them out - they are great fun! We got to meet Jarrett Krosoczka this past summer in Chicago at the American Library Association conference and he was funny and gracious. Meeting him was one of the highlights of the trip for my son! We are looking forward to some of his other books coming out this year - they are pictured below.
4 out of 5 stars
No AR reading level yet.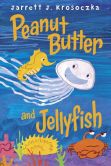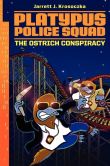 April 8 May 6