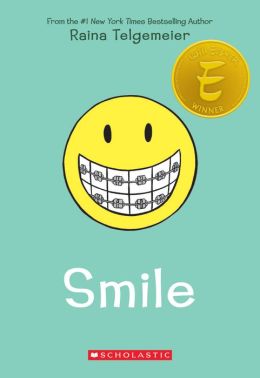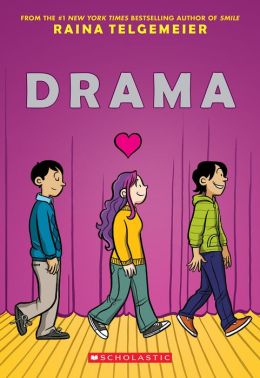 Author Raina Telgemeier shares some of her personal story in
Smile
, a graphic novel about a tween who loses her two front permanent teeth in a fall and the dental work that consumes her life for a season. It's also a story of friendship and finding out who you are - and who you want to be.
In
Drama
, Callie joins the stage crew for the school production of Moon over Mississippi, but there's more drama than just what is happening on stage. In typical middle school fare, a lot of the drama has to do with relationships. Who likes whom? Who does Callie like? What happens when the boy she likes is really interested in other boys instead?
Both stories were well told in pictures and words. As a middle schooler, I would have loved both of these books. The friendship dramas and crushes all felt very "real" compared to what I remember from those days. I would recommend
Drama
for older readers than
Smile,
at least for the students I relate to from day to day (Accelerated Reader rates
Drama
as a "Middle Grade +" interest level, which means for students in 6th grade and older).
4 out of 5 stars for both
AR Reading level of 2.6 for
Smile
and 2.3 for
Drama.