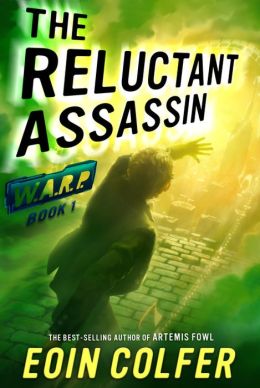 In London in 1898, an orphan named Riley is on a "job" with the man who cares for him, a magician - and murderer - named Albert Garrick. The job is supposed to be Riley's first kill - a task Riley wants no part of. But the target is a scientist from the future, and Riley and Garrick are pulled into a wormhole to the future.
In our time, 17-year-old FBI agent Chevron Savarro is working in London. It falls to her to protect Riley as they try to run from Garrick and the powers he acquires in the wormhole.
This was a much darker book than I was expecting. I ordered it online, but if I had bought it at the bookstore I would have seen that it was shelved for teens instead of middle grade readers. Other reviewers have said this is a darker story than the author's other work. Older students looking for a good science fiction/time travel story should check this one out. It is well written, and suspenseful. The villain is truly evil and the story is violent, so readers should be prepared for that. As a parent, I would want my son to wait until middle school - and maybe late in middle school - before reading this one.
4 out of 5 stars
AR reading level of 6.1