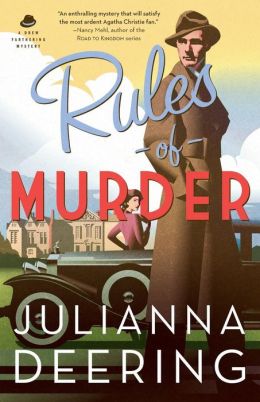 I received an electronic review copy of this from the publisher, Bethany House.
Drew and his friend Nick are visiting Drew's mother and step-father. Soon they are caught up in a murder investigation. A loathsome man, rumored to be sleeping with Drew's mother, is dead - and before the night is over, Drew's mother is too. There are more bodies and more twists and turns to come before the mastermind is unveiled.
I don't usually read historical fiction, but I really enjoyed this mystery. The three main characters - Drew, Nick, and Drew's love-interest, Madeline - are excellent and they hooked me into the story and the twisting plot propelled me on to the end. I was able to figure out some of the mystery, but had to stay up past my bedtime in order to finish the story so I could know how all of it fit together in the end. There's a faith component to the story that sits on the fringes of the mystery. It feels organic as it comes from the characters as they get to know one another. I was afraid it would feel forced, but it didn't. There were multiple suspects, hidden passageways, unsolved murders and more. A great story!
4 out of 5 stars
Recommended for mystery fans, readers looking for quality Christian fiction.