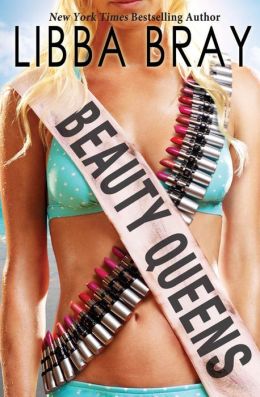 "Maybe girls
need
an island to find themselves. Maybe they need a place where no one's watching them so they can be who they really are." ~
Beauty Queens
, page 177
The Miss Teen Dream contestants were ready to parade around in gowns and swimsuits and utter over-rehearsed speeches about world peace. They were
not
prepared for their plane to crash on an island, killing all the adults and most of the pageant contestants. The time on the island will force the girls to deal with the truth about themselves and to learn to take care of themselves in their dangerous surroundings - all while keeping up their pageant practice, of course!
This was a wild story, unlike most of the things I read for kids or adults. The tone is sassy and irreverent with a dark humor. It took a few chapters to get past some of that dark humor and get into the flow of the story. I marked the quote above as I was reading, and I went back and read it again and again because I think it sums up this story really well - and because I think there is truth in it for teen girls and young women in our culture.
4 out of 5 stars
AR reading level of 4.4 and an interest level of high school (Upper Grades)
Recommended for: teens and adults, readers who enjoy a sassy and dark tone to their stories. This could be an interesting read for a book group - with the right group, the discussion could be fascinating!
Cautions: There's plenty here to offend - and in some ways I think that's the point - to show readers a variety of life styles, responses to stress, corruption in the world, exploitation of women, etc. Specifically, there's a lot of swearing in the book, sex, transgendered and gay characters, satire of corporate advertising and messages to women about beauty.