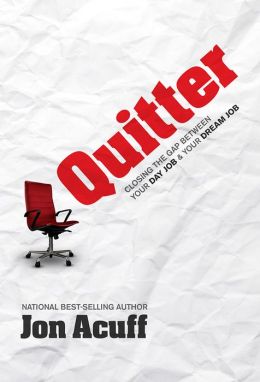 When I bought this book, I was working a job I didn't adore as a favor to a friend, and I knew I wouldn't be there for much longer. I loved the author's blog and loved the idea of pursuing a "dream" job instead of the one I had.
I actually got around to reading the book this year, when I am essentially working in my dream job - a job that found me instead of vice-versa. But I was still interested in reading this book. It is a wise and encouraging volume for those who are hoping there is more to their work life than what they are living. The author's advice, in summary, is to make the most of the job you have (use it to gain discipline and business skills) while you prepare for the job you want.
I enjoyed the book so much, I bought a copy for a friend who is searching for what God might have her do next with the skills and passions He has given her. For me, the book was a great inspiration to think about the parts of my job that I love and use those parts to off-set the parts I don't like as much. If I ever determine that there is another dream I would like to pursue, I think this would be a resource I would want to read regularly - maybe once a year or so - in order to keep perspective on the dream and not get ahead of myself in the pursuit of that dream.
4 out of 5 stars