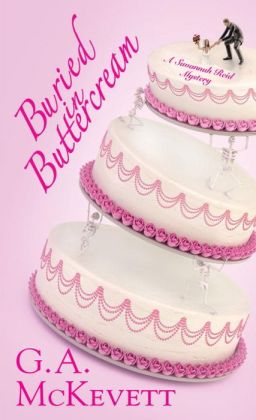 Savannah and Dirk are having the worst luck as they try to get married. Their venue burned down, with the wedding gown and bridesmaids dresses inside. Then friends suggest a wedding planner who gets murdered in the bridal suite of their new venue. If they hope to ever get married (and get Savannah's family out of her house), Savannah and Dirk will need to solve the twisted murder of a very unpopular wedding planner.
This was a beautiful story! Great mystery, sweet love story, great evolution of characters in a delightful mystery series. There are some fantastic moments for Savannah as she deals with the emotional fallout of the previous story (A Decadent Way to Die) and she figures out how to make her experiences work in the life she is trying to build with Dirk. This story has a different feel from the others in the series because (a) the usual team doesn't meet because Savannah's home has been overrun by her siblings and (b) because of the personal demons Savannah is wrestling. But it is a good difference - it keeps the series from feeling too formulaic. I thoroughly enjoyed this book and I'm ready to dive into the next one, Killer Honeymoon.
4 out of 5 stars
Recommended for: Fans of the series, mystery fans who don't mind a little bit of edge to their mysteries
Cautions: language and adult circumstances and settings.