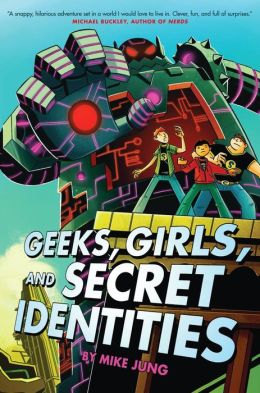 Vincent Wu and his best pals, Max and George, are the biggest Captain Stupendous fans in town. But they can't get any respect from the "popular" Captain Stupendous fans in town. But when Vincent's crush, Polly Winnicott-Lee, is rescued by Stupendous and Vincent's mom is kidnapped by the new supervillain in town, Vincent may find himself in a position to finally get some respect in the Captain Stupendous community. But when the moment comes, Vincent may not care about what the popular folks think.
This was a fun superhero story! There's a great twist early in the book that sets up the rest of the story. Vincent and Polly are great characters - honest, with real emotions about their circumstances - and the four main kids become a great team.
4 out of 5 stars
No AR level yet
Recommended for: Fans of superhero stories (like
NERDS
or
Captain Nobody
or
Super,
or
Sidekicks
).