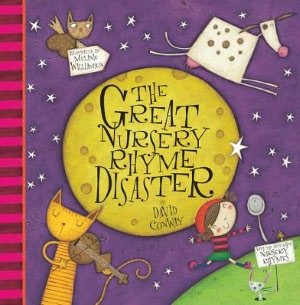 I was so happy to get this book from Tiger Tales. I already reviewed a similar book,
The Great Fairy Tale Disaster earlier this year
- a book I ordered online that I didn't even know was from Tiger Tales until the package arrived. This one was just as good (although I am partial to fractured fairy tales). Little Miss Muffet is tired of her nursery rhyme, so she goes off exploring. She ends up in Jack & Jill, Hickory Dickory Dock and several others, but none of those goes well and soon she wants back in her own story again.
Beautiful illustrations (by Melanie Williamson - same illustrator as
Fairy Tale Disaster
) and a fun, silly story will appeal to lower elementary students (and younger children, too).
4 out of 5 stars
No AR rating yet