This week at school I am talking to my students about some of the books that will be at our Scholastic Book Fair this fall. I thought I'd review some of them here as well. Hope you enjoy these!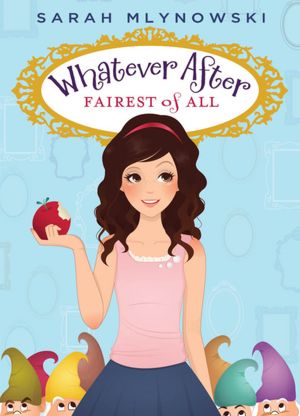 Abby is unhappy in a new town, a new home and a new school. But she is trying to make the best of it. An old mirror in the basement of the new house sucks Abby and her brother, Jonah, into a strange land where they interrupt the story of Snow White. Their triumph over preventing the Queen from killing Snow with a poison apple is quickly tarnished when they realize Snow won't meet the prince and have her Happily Ever After. Maybe Abby and Jonah can help fix Snow's story - and figure out a way to get back home.
This is a cute story - another fairy tale that gets a new twist. Abby's a fun character - the stereotypical anal-retentive big sister type, who just wants things to feel familiar and feel some semblance of control over her life. Jonah is impulsive and lovable, and the two make a good team. The evolution of Snow through the story from clueless princess to determined hero is great.
4 out of 5 stars
AR level of 2.8 (This surprises me - it's a long-ish chapter book for having a late second-grade reading level. Most of my 1st and 2nd graders reading this level wouldn't have the stamina for this book. My older students who are reading at this level, though, will love that this book looks like a book for kids their age.)
The second book in this new series, If the Shoe Fits, releases on January 1, 2013.