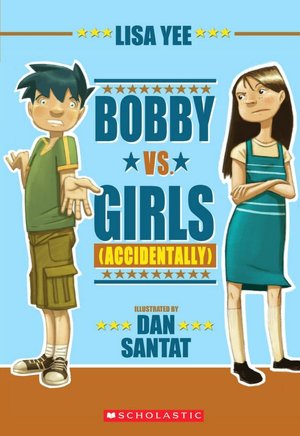 At its core, this is the story of what happens when best friends wonder if they can even
be
friends because one is a boy and one is a girl. But this is also a story about a boy and his dad, a boy and his fish, a boy and a Koloff tree, and a culture of boys vs. girls.
Bobby is a great character who's trying to negotiate school and the competitions that can crop up between boys and girls. He gets embarrassed, makes mistakes, and keeps trying to get from day to day without losing himself or becoming someone he's not. I enjoyed this story and I've recommended it to my students.
4 out of 5 stars
AR rating of 4.1
Recommended for
: students in grade three and up. I thought this might be a boys vs. girls story like
No Talking
by Andrew Clements (one of my all time favorites), but it's really more about Bobby than it is about boys vs. girls. Teachers who are looking for a classroom read aloud and an opportunity to talk about characters/character development in writing as well as personal character and interpersonal skills should check out this story.
Cautions
: an animal dies in the book