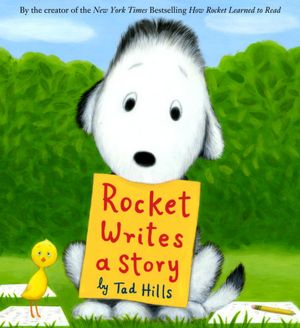 A sequel to
Rocket Learns to Read
, and just as precious as the first!
Rocket and his teacher, the little yellow bird, are still working on reading. Rocket discovers new words every day and hangs them on a tree. One day he decides he is going to write a story with some of his new words. But writing a story is hard - Rocket has a hard time coming up with an idea. Once he has an idea, there are days when the writing goes well and days when it does not. Then Rocket makes a new friend when he shares his story with an owl who lives in the tree that inspired the story.
The illustrations are absolutely delightful. I just want to hug Rocket! This will be a great story to share with my writing club students. I may even share it with all of my students for the start of school this year.
Rocket is a treasure!
5 out of 5 stars
No AR rating yet
Recommended for: classroom and library read alouds, bedtime reading, any time reading!
Cautions: None